Sustainability at Audi: our vision for 2050
Doing business sustainably is one of the great challenges of our age. Every contribution counts in setting things straight and creating the crucial change. We at Audi want to offer our customers the best form of sustainable mobility and, in addition, to act consistently in a sustainable way in all areas of the business.

Reading Time: 4 min
Power consumption combined*: 23.9–20.6 kWh/100km (NEFZ); 26.3–21.6 kWh/100km (WLTP)CO₂-emissions combined*: 0 g/km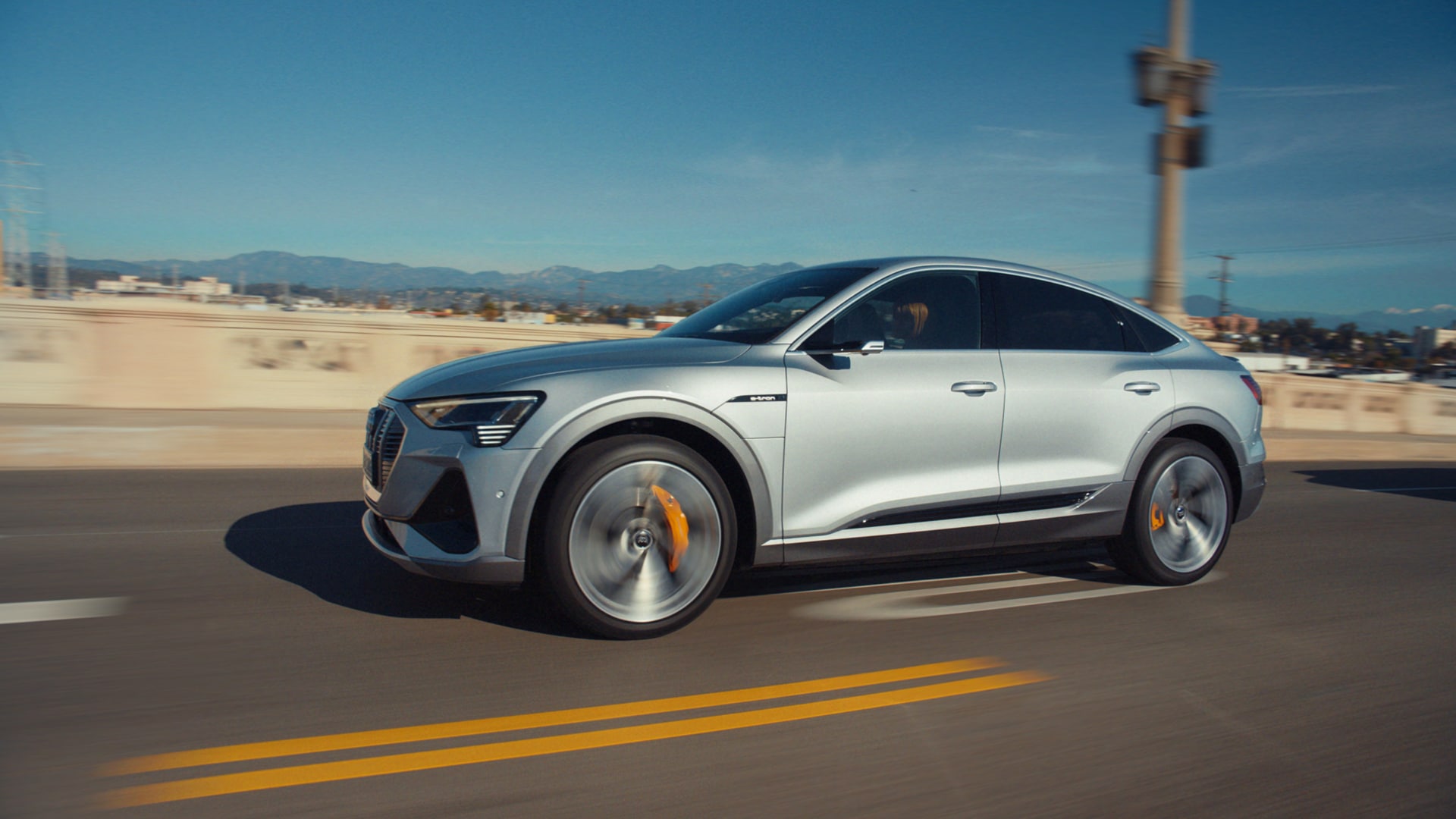 Our path: systematically reduce CO₂ emissions
Audi has a clear vision: the company wants to achieve a carbon-neutral balance 1 by 2050 – from the supply chain and production through to the entire life cycle of its models. A responsible use of resources, the systematic reduction of CO₂ emissions, the development of sustainable electromobility, and many other measures are making a decisive contribution to Audi acting consistently in a more sustainable way.
#Circular­Economy

Audi is promoting a circular economy

For us, this sustainable behavior begins long before one of our vehicles takes to the streets for the first time. During production, for example. The vision: a closed-loop circular economy. This also includes the sustainable use of water. At its Mexican site in San José Chiapa, Audi is the world's first premium manufacturer to produce cars completely free of wastewater. Here, all wastewater is processed in order to be reused at the plant and in production.



A second strategy in this circular economy is focused on recycling: for example, the industrial processing of used parts back to original-part quality – so-called remanufacturing – and their sale offer considerable added value for the used-parts business.



In 2025, Audi is looking to offer 30 electrified models, of which 20 will be purely electric cars. For this reason, the demand for batteries is set to rise further. We are therefore committed to designing the life cycle of the batteries for electric cars as sustainably as possible and have been an active member of the Global Battery Alliance since 2017. The alliance focuses both on the protection of human rights and social standards during the mining of the raw materials, as well as the development of solutions for the reuse of lithium-ion batteries.



In terms of aluminum processing, Audi is also pursuing the goal of establishing intelligent material cycles along the supply chain and therefore minimizing environmental risk and avoiding resource wastage. For this purpose, we launched the "Aluminium Closed Loop" project. Offcuts from aluminum sheets generated at the pressing plant are thus returned unmixed to our suppliers, who are then able to process them once again. Audi then reuses the aluminum sheets manufactured in this way during production.



In 2018 alone, 90,000 metric tons of CO₂-equivalent emissions were saved as a result. For the sustainable production of the battery casing, the Aluminium Stewardship Initiative (ASI) awarded Audi its sustainability certification, the first car manufacturer to receive it.

#MissionZero
Audi Brussels plant: the world's first certified carbon-neutral¹ large-scale production in the premium segment.

Within the scope of the Audi environmental program Mission: Zero, all Audi sites should operate carbon-neutrally 1 by 2025. That is already the case at our Brussels plant. By using renewable energy, a total of up to 40,000 metric tons in CO₂ emissions are saved per year. Since 2012, Audi Brussels has been powered by green electricity. In 2013, the largest photovoltaic plant in the region was added. In 2017, the plant was expanded. With an area of 89,000 square meters, it is as large as 12.5 soccer fields, for example, and produces enough green energy to supply around 1,500 four-person households for a year. What's more, heating of the plant is carbon-neutral 1 thanks to the purchase of biogas certificates. We offset all other emissions resulting from fuels, heating oil, or the burning of solvents via so-called carbon credit projects.
Driving to a more sustainable future
Innovation has always been at the heart of everything we do, but now it's about taking progress in a new direction. Learn more about our path to a more sustainable mobility.
Power consumption combined*: 23.9–20.6 kWh/100km (NEFZ); 26.3–21.6 kWh/100km (WLTP)CO₂-emissions combined*: 0 g/km

#E-Mobility
The electric cars from Audi

In the next few years Audi will extend the program of electric models in the premium car segment. Alongside all-electric cars, plug-in-hybrid vehicles are also developed. Audi successfully laid the foundations for all-electric models back in 2018 with the e-tron. We presented the second model in the e-tron series, the Audi e-tron Sportback, in November 2019 during the LA Auto Show. The future series model of the sporty coupe, the Audi e-tron GT, will roll off the production line at the Neckarsulm plant in the coming months.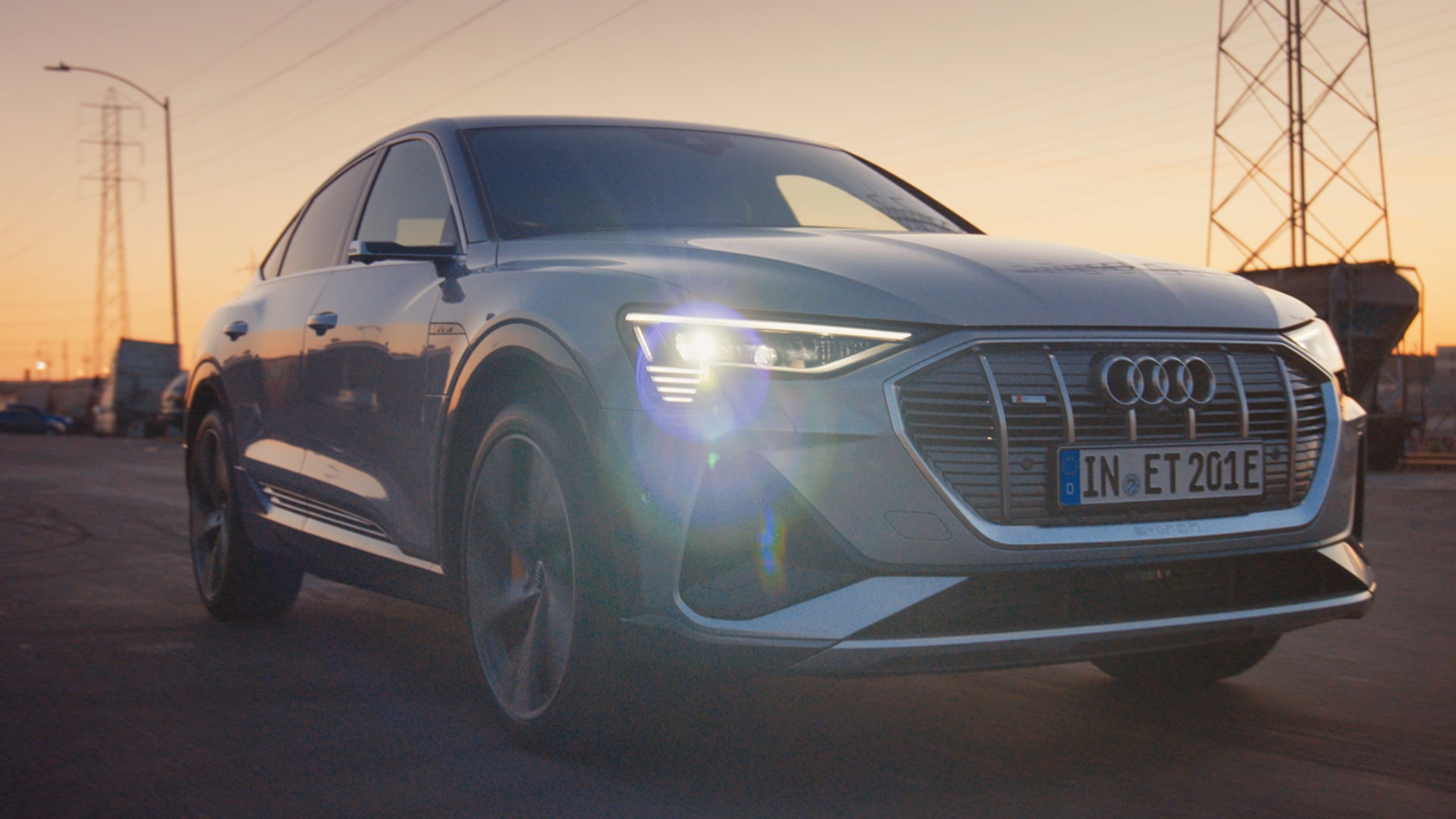 Power consumption combined*: 23.9–20.6 kWh/100km (NEFZ); 26.3–21.6 kWh/100km (WLTP)CO₂-emissions combined*: 0 g/km
"Audi is changing. The future is electric across all segments"
- Hildegard Wortmann, Member of Management for Sales and Marketing
#Range
An improved charging infrastructure for electromobility

In cooperation with the fast-charging network IONITY, Audi is making electromobility practical for everyday use. By the end of 2020, IONITY should enable fast charging along highways in 25 countries at around 400 high-power charging (HPC) stations. With the Audi e-tron Charging Service, customers charge their car at advantageous prices using the IONITY network and can also use the majority of all charging stations in Europe with just a single card – the charging offer from the four rings pools more than 135,000 charging points from around 400 international providers. With "Volkswagen Naturstrom," you can also charge your Audi at home using 100-percent-renewable energy sources.

#Symbiosis
Acting sustainably and economic success go hand in hand

Sustainability is a priority not only for Audi, but also for today's premium customer. That is why we will be offering carbon-neutral 1 premium mobility in all model areas in the long term. For us, economic success will depend on integrated, sustainable action; we also want to maintain a harmonious balance between ecology and economics. With the integration of ethical, ecological, and social aspects – management by ESG (environment, social, and governance) – we are taking the next step into an electrifying future.

Let's drive to a more sustainable future
Our path to a more sustainable future is fully-electric. Join us on our path - and learn more about electric mobility at Audi.