Lower power-to-weight ratio.
Higher torque.
The new Audi RS 6 is not only irresistibly dynamic; it is efficient, too: Audi cylinder on demand automatically shuts down four of the eight cylinders if they are not needed – without you noticing any change in engine power.
1 out of a total amount of 1 engines
No engine found.
No motors are available for this type of fuel in the equipment line currently selected.
Legend
Acceleration

Displacement

Max. Torque

Horsepower
Sporty driving: The Audi Sport GmbH models are developed and produced for operation on public roads. There are significantly higher stresses when the vehicle is used on racetracks or other closed-off courses (e.g. driving training, driver training courses, and track days). The engine, transmission, clutch, and drive train as well as the chassis, brake system, and tyres are particularly stressed. This can lead to greater wear. Information on the special features when using the vehicle on circular routes or other restricted courses can be obtained from the vehicle literature or your Audi partner.
The TFSI engine of the Audi RS 6 Avant.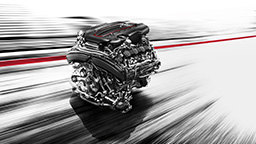 Thanks to its outstanding power-to-weight ratio, the new Audi RS 6 Avant moves in an especially dynamic way. The 4.0 litre V8 TFSI engine developing 412 kW (560 bhp) accelerates from 0 to 100 km/h in just 3.9 seconds, with silky-smooth power. Find out more