The 4.0-litre V8 TFSI engine develops 412 kW (560 hp) and a maximum torque of 700 Nm. Pure power that the quattro permanent all-wheel drive transfers to the road with confidence. The sprint from 0 to 100 km/h is effortless and takes just 3.9 seconds.
Sporty driving mode: The models from quattro GmbH are designed and manufactured to operate on public roads. In comparison to driving on roads, significantly higher vehicle loads occur during the use of the cars on racetracks or other enclosed courses, (e.g. during driver training, driving training courses, track days). The engine, transmission, clutch and drive train in particular as well as the suspension, brakes and tyres are put under significant stress. This can lead to increased wear and tear. Information about the special load characteristics when using your vehicle on racetracks or other enclosed courses can be found in the on-board literature or by contacting your Audi partner.
Powerful and efficient.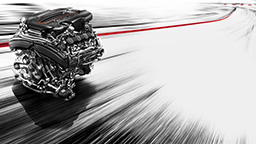 With the 4.0 TFSI engine in the Audi RS 7 Sportback, the sprint from 0 to 100 km/h is completed in an impressive 3.9 seconds. The optional dynamic packages allow the top speed to be increased to 280 or 305 km/h. The new RS 7 Sportback also impresses when it comes to efficiency: in the partial-load range, Audi cylinder on demand shuts down four of the eight cylinders. The engine continues to run smoothly and powerfully regardless. The only difference is that fuel consumption and emissions are reduced.
quattro® - permanent power to all four wheels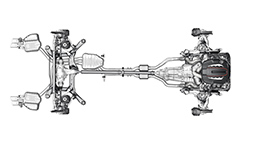 The quattro® permanent drive system guarantees more driving pleasure – especially on slippery road surfaces. If the wheels of one axle lose grip and threaten to spin, the centre differential redirects the drive torque to the other axle, automatically and continuously. The result: better acceleration, greater lateral stability, improved traction, enhanced safety and even more driving pleasure.