Choose your engine and transmission
You'll need to make two choices:
• Fuel type: petrol or diesel
• Front-wheel drive or quattro, Audi's legendary all-wheel drive system
4 out of a total amount of 4 engines
2.0 TDI
No engine found.
No motors are available for this type of fuel in the equipment line currently selected.
Legend
Acceleration

Displacement

Max. Torque

Horsepower
The TFSI engines of the Audi Q3.
For example the 1.4 TFSI ultra 110 kW with Audi cylinder on demand technology in the Audi Q3, enabling the car to accelerate from 0 to 100 km/h in 9.3 seconds and reach a top speed of 204 km/h.
The TDI engines of the Audi Q3.
With their combination of direct injection and turbocharging, Audi TDI engines promise exceptional performance – thanks to their high torque output over the entire engine speed range with constant power build-up. They are renowned for being fuel-efficient and for reducing emissions. But they are incredibly dynamic too – letting you get the maximum out of any road. The 2.0 TDI, for example, has a power output of 110 kW, a top speed of 204 km/h and accelerates from 0 to 100 km/h in 9.6 seconds.

A 2.0 TDI Engine generating 135 kw (184 PS) is also available in conjunction with the quattro all-wheel drive. Accelerates from 0-100 kmph in 7.9 seconds
quattro® – permanent power to all four wheels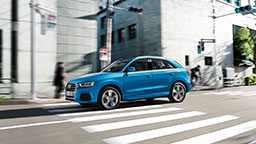 The quattro permanent drive system guarantees more driving pleasure – especially on slippery road surfaces. If the wheels of one axle lose grip and threaten to spin, the centre differential redirects the drive torque to the other axle. The result: better acceleration, greater lateral stability, improved traction, enhanced safety and even more driving pleasure.
S tronic® brings a dual saving: time and energy
The 7-speed S tronic dual-clutch transmission combines not only two gearboxes in one, but also sportiness with efficiency. The high level of efficiency and the rapid gear changes deliver even greater driving pleasure.