Audi e-tron Sportback | Luxury Electric Sportback | Audi India
Design, reinterpreted.
The Audi e-tron Sportback.
Combined power consumption² in kWh / 100 kilometers: 26.94–19.89 (WLTP)
Combined CO₂ emissions² in g /km: 0

quattro all-wheel drive, up to 484 kilometer of range² - get ready for driving fun. The new Audi e-tron Sportback combines pure emotions with a reinterpreted coupé design.

Note: The vehicle displayed shows special equipment for an additional charge.

Get in and feel good
The contemporary, flowing design continues in the Audi e-tron's interior; it's sweeping dashboard adding to the feeling of space and housing the two large MMI touch screens and the Audi virtual cockpit. The touch screens feature haptic and audio feedback, creating a clean and streamlined interior environment while still placing control of the e-tron's vehicle systems and infotainment literally at the driver's fingertips. Combined with the voice command and multi-function steering wheel, the driver remains in complete control while still remaining completely focused on the road ahead.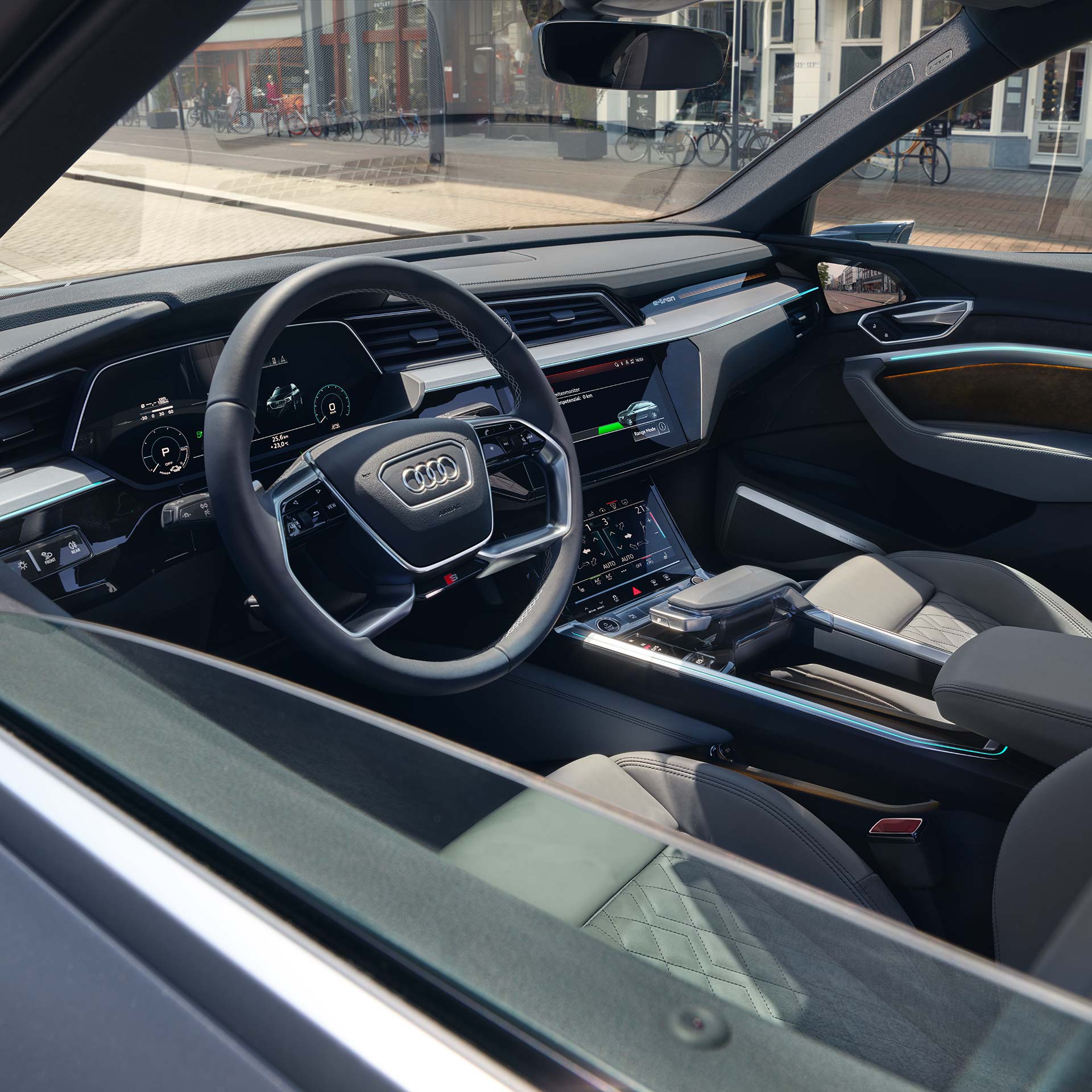 Audi Digital Matrix LED headlights: One million pixels dancing in step
Engineered to go the distance
Whether for a weekend trip or a longer trip - with a maximum range² of up to 484 kilometers, the Audi e-tron is eminently suitable for long journeys. The large high-voltage battery and an intelligent recuperation system do their part.
Audi e-tron Recuperation
Increases the efficiency and, as a result, the range of your Audi e-tron. To recuperate the energy, your Audi e-tron uses both coasting recuperation and an innovative form of brake recuperation, allowing it to achieve maximum distance on every drive.