Untamed beauty.
The Audi RS 7 Sportback.

Combined fuel consumption in l/100 km*: 11.6–11.4
Combined CO₂ emissions in g/km*: 265–261

Wild and untamed or poised and athletic? With the Audi RS 7 Sportback, you can have both. Coupé-like elegant design lines in tango red meet the brute force of the V8 TFSI engine. Innovative technology meets intuitive dynamism. Experience the fascination of not having to compromise.
High performance in pictures
Sets your pulse racing the moment you get in
The best thrills are those you create yourself. With the RS 7 Sportback¹, it happens the moment you lay your eyes on the Audi virtual cockpit with its RS performance design. The excitement builds even more when you take hold of the RS sport contour leather steering wheel with RS shift paddles in aluminium. Especially with the new RS mode button: personally configured RS1 and RS2 modes are just the push of a button away.


Escape from the everyday
With the RS 7 Sportback¹ you can do just that wherever you're sitting. For instance with RS sport seats in perforated Valcona leather with red honeycomb pattern, RS embossing on the backrests and seat belts with red edge in the front and rear. And a spacious interior that will let your family and friends enjoy the sporty aesthetics as well. There's plenty of room for up to five people to comfortably challenge everyday life. And make a sporty getaway.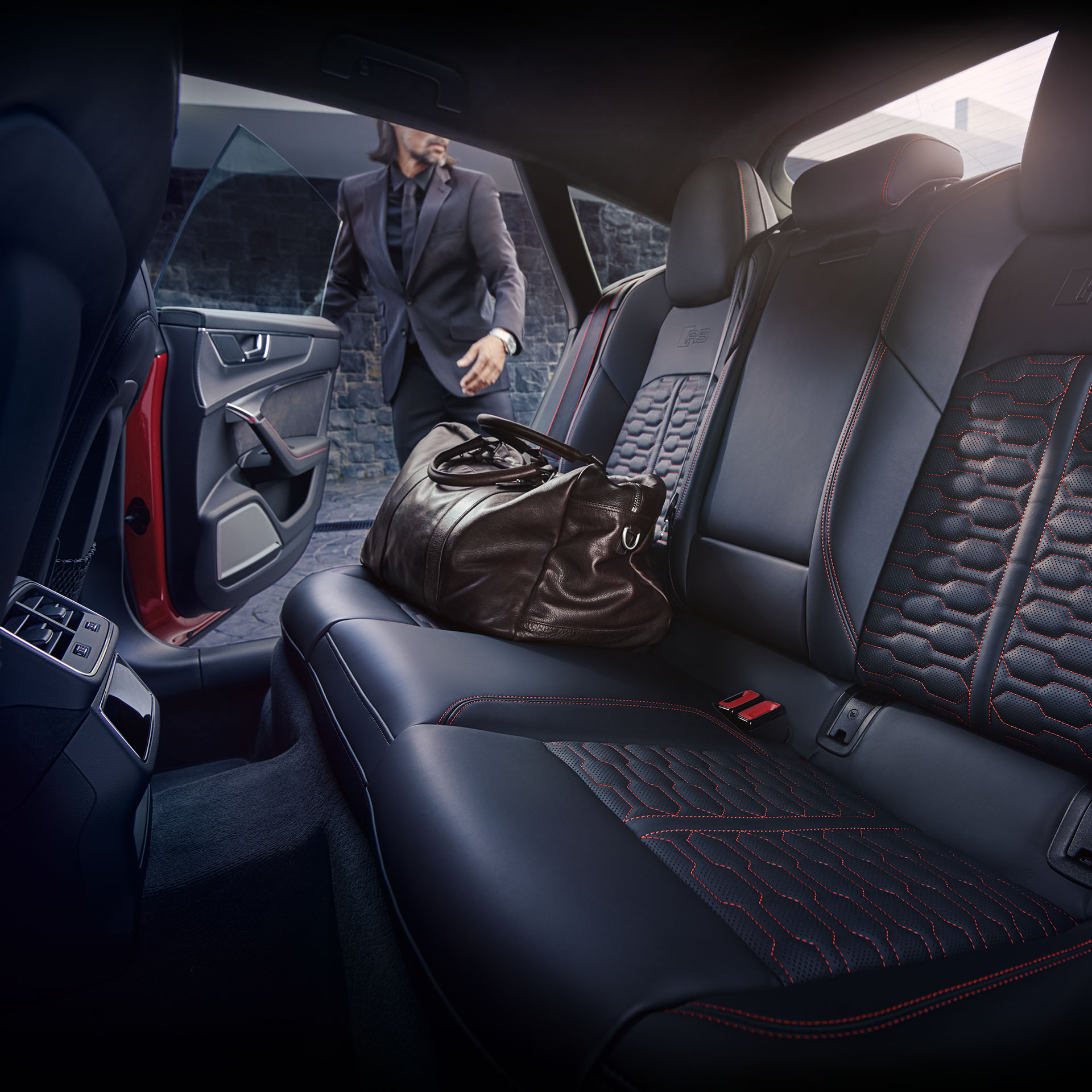 High performance in figures
Acceleration
0 to 100 km/h
Top speed (optional)
250 km/h (standard)
Power-hungry
Whenever the engine growls, that hunger for the road returns. Totally understandable given the driving characteristics of the RS 7 Sportback: with 441 kW (600 hp) and 800 Nm you accelerate from 0 to 100 km/h in 3.6 seconds (Combined fuel consumption in l/100 km*: 11.6–11.4; Combined CO₂ emissions in g/km*: 265–261). And optionally on to up to 305 km/h. Made possible with the 4.0-litre V8 twin-turbo engine, which, thanks to the 48V mild hybrid system and cylinder on demand, can be used in virtually any situation and provides more than enough power at all speeds.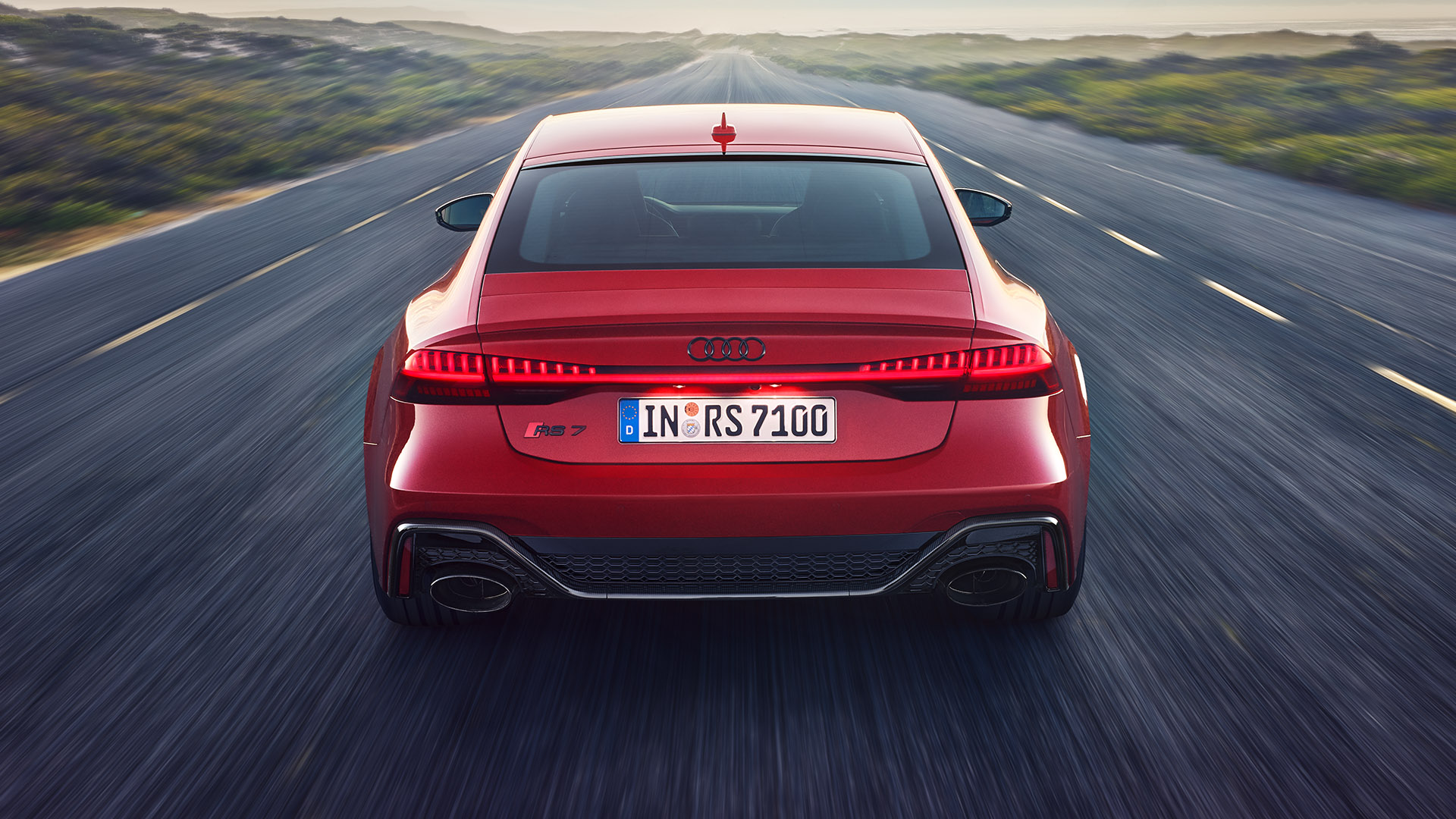 Every moment counts
The RS sport suspension plus with Dynamic Ride Control, adjustable in three stages via Audi drive select, reduces the roll motion and improves the dynamic handling. Dynamic steering and quattro drive with sport differential deliver the kind of agile handling you would expect the moment you set eyes on the exterior. Dynamic lateral acceleration and outstanding directional stability make every journey one to remember. And every bend irrepressibly beautiful.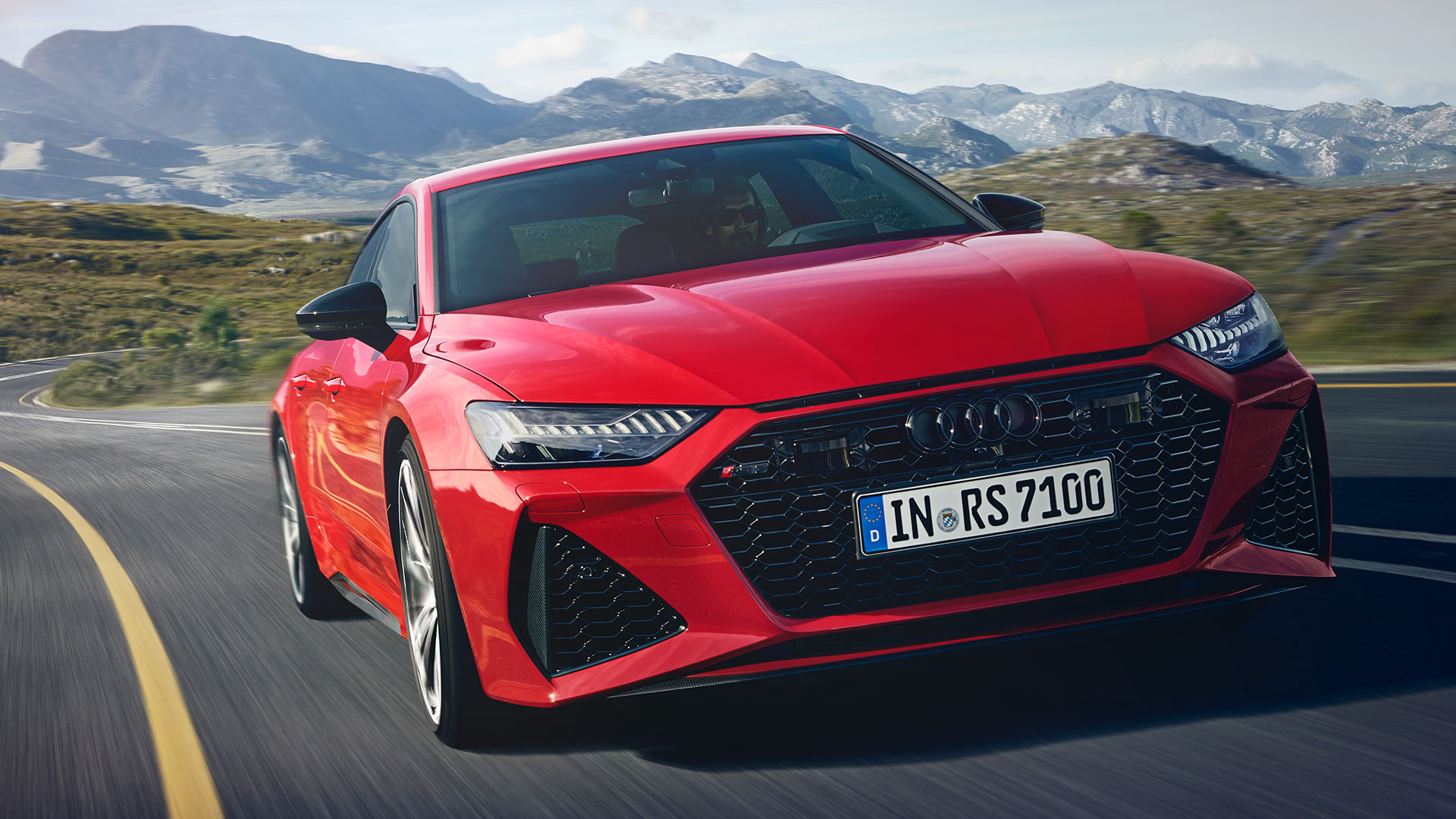 Lighting taken to the next level
Go for the optional Audi RS Matrix LED laser headlights for progressive lighting technology. The smart system comprising LED and camera technology provides enhanced safety and great looks: with characteristic RS sequencing of the rear LED strip and of the dynamic indicator when unlocking and locking the Audi RS 7 Sportback¹.